This story was first written and published for Fox Sports NRL.

This week, the rugby league community celebrates 'Retro Round'.
Even though it's not an official NRL themed round, it's been plenty of fun to see the rugby league family embrace this celebration of the 1980s so wholeheartedly.
From sharing stories of classic rivalries, to photos of curly hair, moustaches and black boots, this week the game has come together to remember a different era in the history of our game.
This was an era where men like Ray Price, Wayne Pearce and Laurie Daley were legends. A time when cotton jerseys were the norm and getting splinters on your backside after sitting on the rickety old seats at Cumberland Oval was simply part of the rugby league experience. Tinnies on the hill were acceptable along with the biff and plenty of head tape.
I was born in 1989 so I missed the majority of this era (which is a tremendous shame because I am a Parramatta fan). But despite missing it, I almost feel like I was there because I've had the stories of this era shared with me by my dad so often.
Stories about a treacherous referee named Greg Hartley, about the pace of Steve Ella and about the rivalry between the Fibros and the Silvertails. It means that even though I wasn't around for the 'glory era', I certainly look back on this period with fondness.
And so do plenty of other fans, which explains why so many people seem to have held onto what I think is the most glorious and classic of all rugby league relics — the retro footy card.
This week, the retro footy card is celebrated for what it is — a snapshot of a moment in time and a memory of hairdos that should never ever be in fashion ever again.
Plenty of people have shared their favourite retro footy cards with me this week and I thought I would share some of my favourites with you.
CRAIG BELLAMY
Did he think he would move away from Canberra when his career ended? Was he as passionate about his footy back then as he in the coaches box now?
Bellamy played his entire career with the Canberra Raiders and spent most of his career as a centre. He was coached by Don Furner, Wayne Bennett and Tim Sheens — interestingly he would come across both Bennett and Sheens later in his career in his coaching capacity.
He may have been injured for Canberra's first ever Grand Final appearance in 1987, but he played on the bench in Canberra's 18-14 win in the 1990 Grand Final against Penrith.
Would you just look at that haircut?
PETER STERLING
A male friend of mind described Sterlo as 'pretty sexy' after seeing him on this retro footy card this week.
As a youngster growing up and learning to love the Parramatta Eels, Peter Sterling was a name mentioned to me plenty by dad along with other names like Bob 'Bear' O'Reilly, Mick 'Gentleman' Cronin, Steve 'Zip Zip' Ella, Eric 'Guru' Grothe and Ray 'Perpetual Motion' Price.
Sterlo was the best halfback Parramatta has ever had. No one has been ever to match him since and I'm unsure whether anyone will be able to match him in the future.
In fact, Parramatta apparently has a 'halfback curse' — every halfback since has been compared to Sterlo and none have come close.
He featured in four Parramatta Grand Final victories and during his career was the recipient of the Dally M Halfback of the Year, the Clive Churchill Medal and two Dally M Medals.
I can't help looking at Sterlo in this photo and being reminded of another Eels legend, Luke Burt.
MARK ROSS
I've saved my favourite till last. This is the only retro footy card I own. Some of you will have no idea who this particular player is, but this card was sent to me by a man who read one of my articles about one of my favourite current NRL players.
Mark Ross is the father of current NRL cult-hero Nathan Ross. The man nicknamed 'Angry' played for Penrith, South Sydney and the Gold Coast and finished his career with 123 appearances, 38 tries and 59 goals.
Judging by the similarities between Mark and Nathan, I would suggest to Nathan that he take a good hard look at his dad — it might act as a mirror into the future.
SPECIAL MENTIONS
There are too many cards to go into detail on in one story, but I also wanted to share these ones with you too.
Best moustache — Rod Henniker
Best pose — Bob McCarthy
Best impression of his team's logo — Kevin Hardwick
Best front of jersey — Parramatta Eels with 'Grouse'
Best mullet — John Bilbija
Best hair — Kerry Hemsley
And if anyone can tell me what is going on in these footy cards, please get in touch.
Geoff Bagnall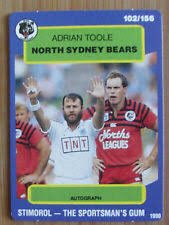 So in the spirit of Retro Round, bring out your old collector cards, share a yarn about the 80s with your family members and reflect on a time when rugby league was 'simply the best'. In my opinion, it still is.